D-moda leather goods management offers a comprehensive and customized solution for the efficient management of production activities in the leather goods industry.
With this advanced solution, companies in the industry can optimize their workflow and improve the overall efficiency of each operation.
Read more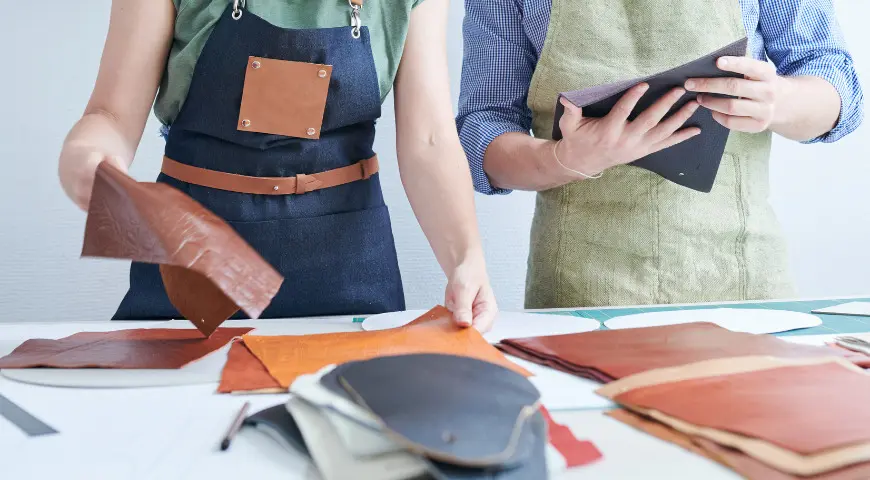 A comprehensive erp solution for leather production management
Investing in a leather goods production management system such as D-moda is a key step in empowering your company to achieve extraordinary results at every "life stage" of the product. With its advanced features, this software will enable you to greatly simplify and improve operations, ensuring a significant increase in efficiency, reduction of errors, and maximization of overall productivity.
1) Powerful features for optimized management
D-moda leather goods management has been carefully developed to meet the specific needs of the industry. Our suite offers a wide range of features designed to help you effectively manage every aspect of your production process. From managing material orders and inventories, to organizing production steps and monitoring progress, the software will provide you with the tools you need to optimize your operations and improve overall performance.
2) Simplified production planning and management
With D-moda leather goods management, you get a powerful and intuitive production planning and management system. You will be able to keep track of the progress of different production stages, manage material inventories optimally, plan resource utilization, and optimize the overall workflow. This efficient management will save you time and resources while keeping the quality of your products high.
3) Supply chain and supplier management
Our software will give you complete control over the supply chain and suppliers. You will be able to efficiently manage lead times, maintain accurate monitoring of production costs, and calculate the profit margin for each product. With detailed business performance reports, you will have a clear and comprehensive view of your business, enabling you to make informed and strategic decisions.
4) Customization and dedicated support
We recognize the uniqueness of each company and its need for customized solutions. D-moda leather goods management is highly flexible and can be configured to fit your company's specific needs perfectly. Our team of experts will always be ready to assist you and provide dedicated support to ensure seamless integration of the software into your daily operations.
With D-moda leather goods management by your side, you can face industry challenges with confidence, improving business efficiency, streamlining production operations and getting the most value from your investment.
Choose the solution that perfectly fits your needs and get ready to grow your business to new levels of success and competitiveness in the leather goods market.
Contact us