SEO is now the best possible investment for your site or eCommerce
The online world is a battlefield. Every day, thousands of websites struggle for the same thing: visibility. And in this battlefield, only the strongest survive. But how can one become one of the "strongest"? The answer is simple: through SEO consulting, the help of an SEO agency and the experience of an SEO expert.
Search Engine Positioning Service
Search engine positioning involves a series of analyses and strategies that aim to get a website to appear in the top search engine results. This is made possible through a variety of techniques and activities, including SEO, link building, content marketing and copywriting. But it is certainly not an easy job: to achieve excellent results, it is important to have technical skills, a high understanding of the market, and to be able to develop a well-defined strategy. That is why it is important to turn to professionals experienced in this field, such as an SEO agency.
SEO Link Building: the power of links
Link building is among the most effective techniques for improving your website's search engine rankings. But what exactly does it mean? Link building is the process of acquiring links from other websites pointing to your site. These links, also known as "backlinks," are seen by search engines as signals of trust and authority, which can improve your ranking in search results. But not all links are created equal. To be effective, link building must be done strategically and ethically because it is important not to go against Google's guidelines so as not to risk a penalty-that's where a link building service from a specialized team comes in.
Content Marketing and Copywriting: the key to attracting and retaining customers
Content marketing and copywriting are two other key techniques for improving your website's search engine rankings. Content marketing is the process of creating and sharing high-quality content that attracts and engages your target audience. Copywriting, on the other hand, is the art of writing persuasive texts that prompt people to act. When combined, content marketing and copywriting can not only improve your search engine rankings, but also increase your site traffic, generate leads, and convert visitors into customers. This is why it is important to work with a copywriting agency or seo copywriting agency that understands the importance of these two elements.
Ecommerce SEO consulting: your online success
If you run an online store or showcase site, you know how important it is to be visible online. That's where effective ecommerce SEO consulting comes in. This business can help you navigate the complicated world of SEO by providing strategies and advice on how to improve your search engine rankings, how to attract and retain customers, how to manage your website, and more. In other words, an ecommerce SEO consultancy can be the strategic partner of your online business.
Read more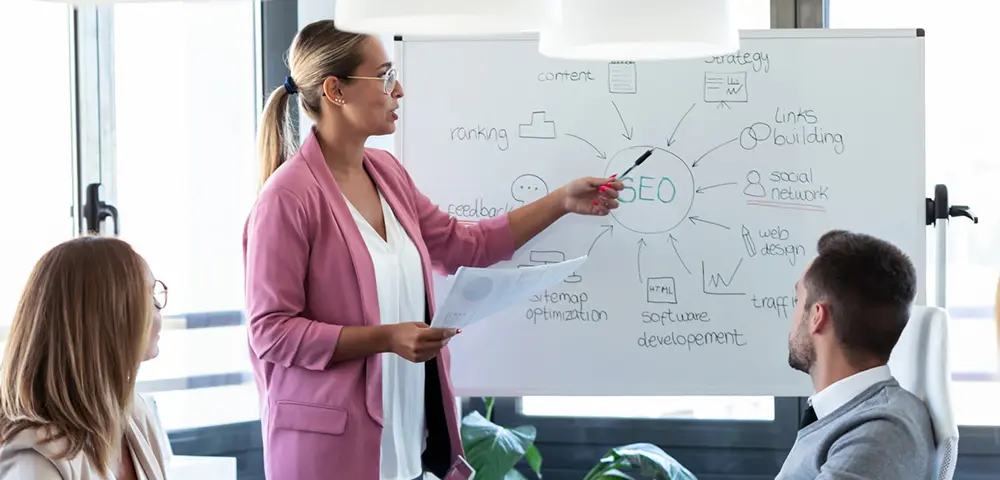 Conclusion
Online success is not a game of luck. It is the result of a well-planned and well-executed strategy. Whether you are looking to improve your search engine rankings, increase your site traffic, generate leads or convert visitors into customers, an SEO consultancy, SEO agency and SEO expert can help you achieve your goals. But remember, SEO is not a one-time process. It is a commitment to medium-long term that requires time, effort and dedication. But with the right guidance and tools, you can create a website that not only attracts visitors, but keeps them. So why wait? Send us a request via the form, we will be happy to listen to your needs and build together the best SEO strategy for your online business.Our team consists of SEO experts with more than 20 years of experience in web marketing activities, and we also specialize in the fashion industry. Contact us to arrange a call!
Contact us