Platform for statistics and Dashboard network stores
ModaNet is the "WEB Engine" of the MODA Retail software that enables the management of advanced "reports" and Dashboards for monitoring the entire sales network. The information can be accessed via the Internet, from desktop and mobile IOS and Android systems.
Read more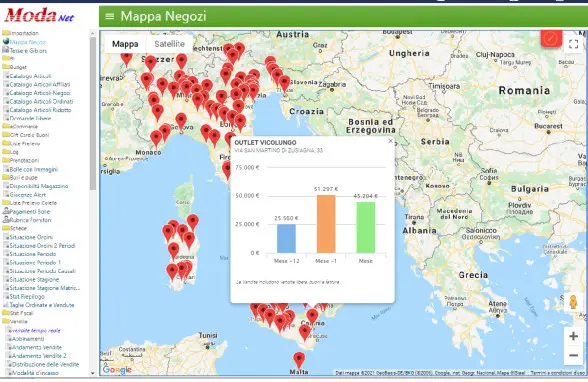 ModaNet is a store sales tracking software that enables various people to
who work inside and outside the company to access in an extremely simple, targeted and
personalized to the information they need.
Provides an analysis of retail store data. Collections for the day, supplier orders, sales, inventory, turnover, price lists, trends, catalog, are all information that is always available and accessible without location or time constraints.
Very useful is the ability to schedule these reports to be sent automatically by email,
Allowing you, for example, to automatically receive, in your inbox,
The report with the day's receipts divided by store.
Any Report is schedulable, and can also be sent as a pdf or excel.
The visibility of various statistics is related to the user who logged in.
Different users can then have access to distinct modanet features.
Users with different functions will access only the reports under their purview.
Entitlements also allow control over which stores the user has access to.
Because we consider Security and Confidentiality extremely important, on Modanet it is
two-factor authentication can be enabled.
Thus, when logging into Modanet, in addition to the user name and password, you will have to
enter an OTP code that the system will send you as a text message.
Contact us